Holiday Rentals
Rural Tenerife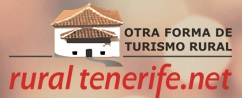 RuralTenerife is a local agency in Tenerife, a specialist in accommodation and rural activities on the island and a leader of the rural sector with a 10 years experience.
They seek accommodation fit to your needs. They assist you throughout your stay in a personalized way, from your arrival to the island until your return home. With the guarantee of more than 40,000 customers until now.
They select only the best houses in Tenerife, combined with beautiful natural surroundings. In addition, each house has a special charm that makes it unique and turns your holiday into a dream. They offer the best balance between technology and personal attention, ensuring speed and efficiency in the booking process.
Contact Rural Tenerife
Telephone: +34 922 085 015
Email: reservas@ruraltenerife.net
Website: https://www.ruraltenerife.net
Address: Avenida de la Constitucion 56, Adeje, Canarias, Spain