Car Hire at
Tenerife South
Airport
Collect your car inside TFS Airport
Low-cost Tenerife car rental
Compare ALL Tenerife Airport suppliers!
Special deals on many cars
CAR HIRE at Tenerife South Airport
Hiring a car at Tenerife South Airport is the best way to explore the island. You will have a wide variety of rental companies to choose from. Use the search box above to find the best prices for autumn and winter 2023 from the major suppliers.
Inter Rent, Top Car, Enterprise, Europcar, Goldcar, Hertz, Rhodium, Sixt and Thrifty are all based directly at Tenerife South Airport. Each car hire company has offices inside arrivals on the ground floor.
Take a look at the slider below to get an idea of the daily car hire prices with the best car rental companies at Tenerife South Airport. The rates are based on hiring a car in 2023 for a period of 14 days.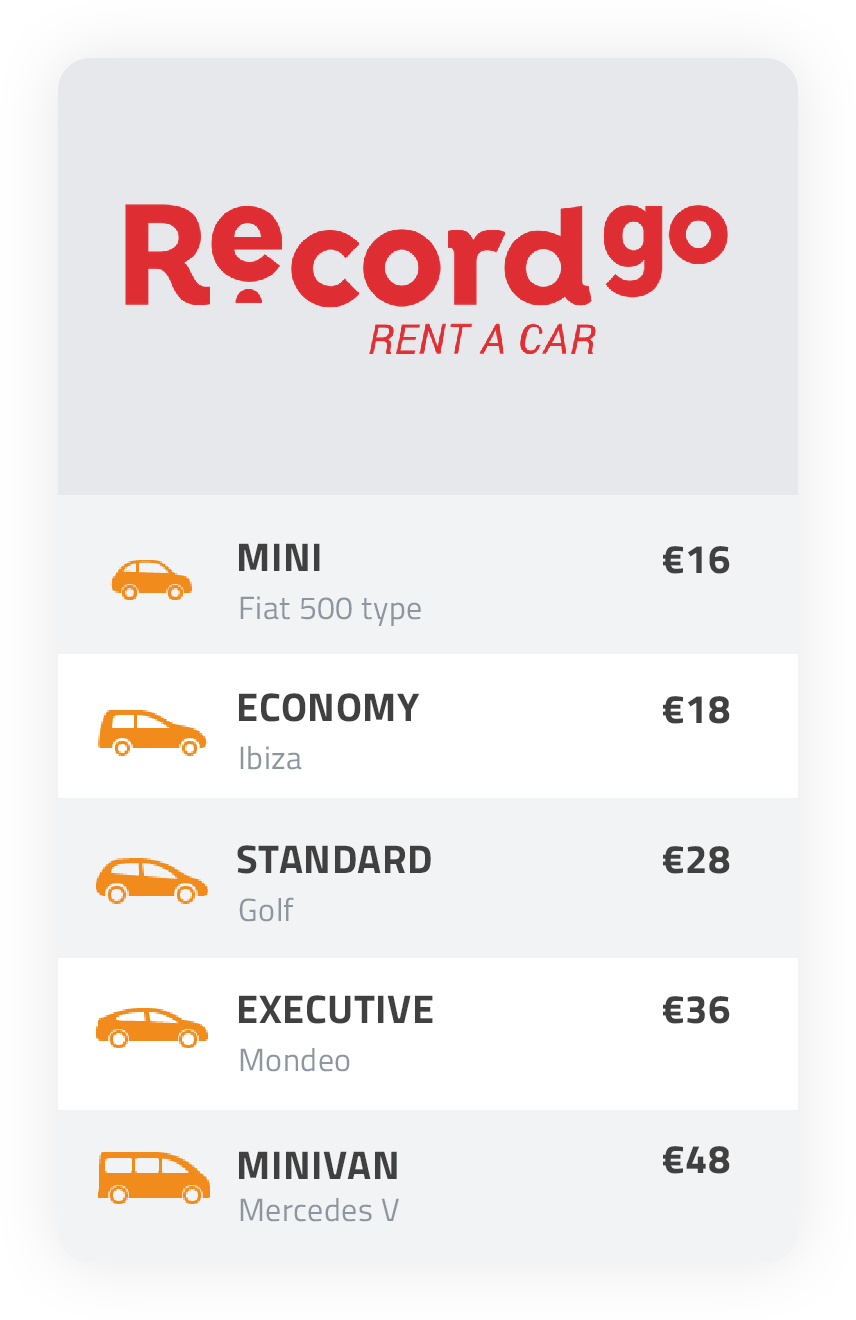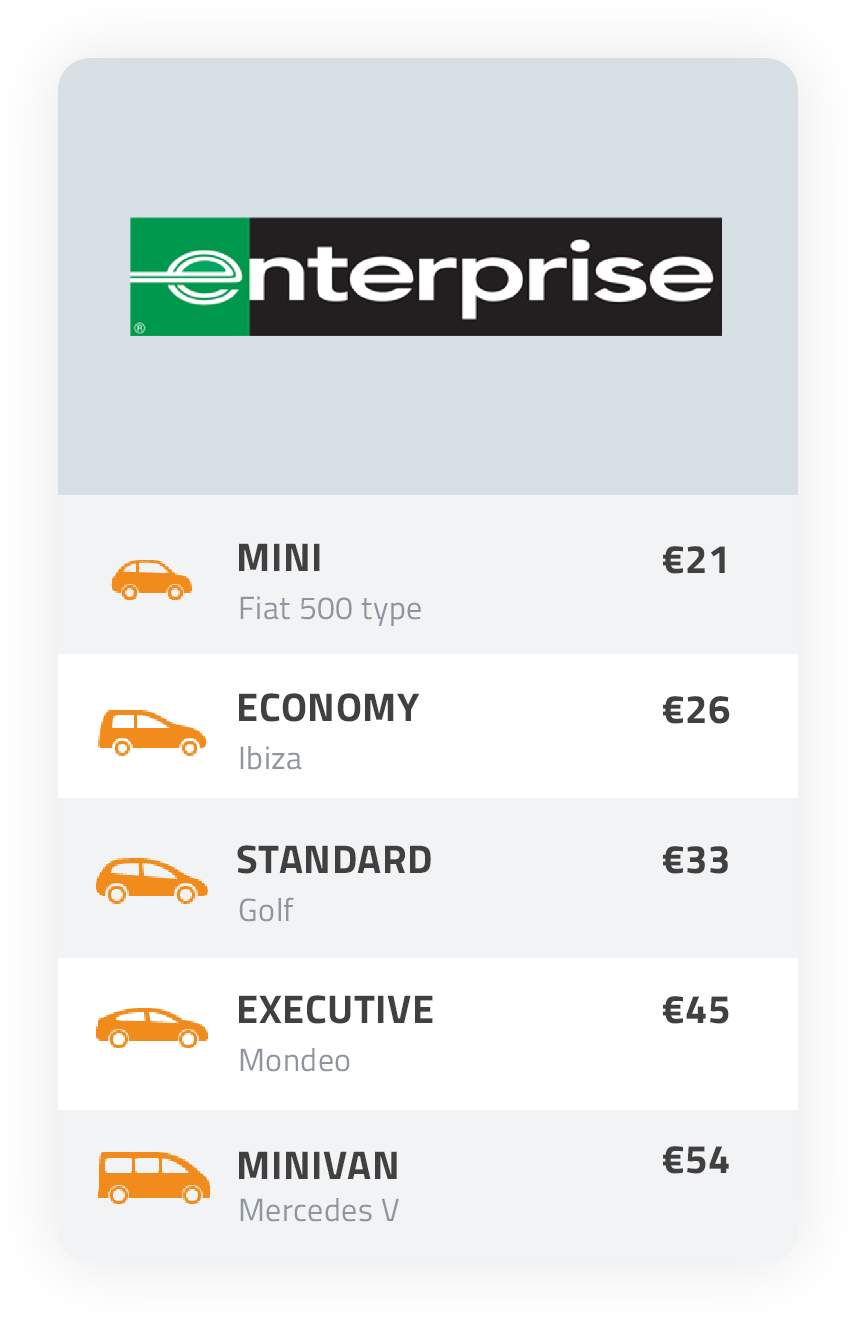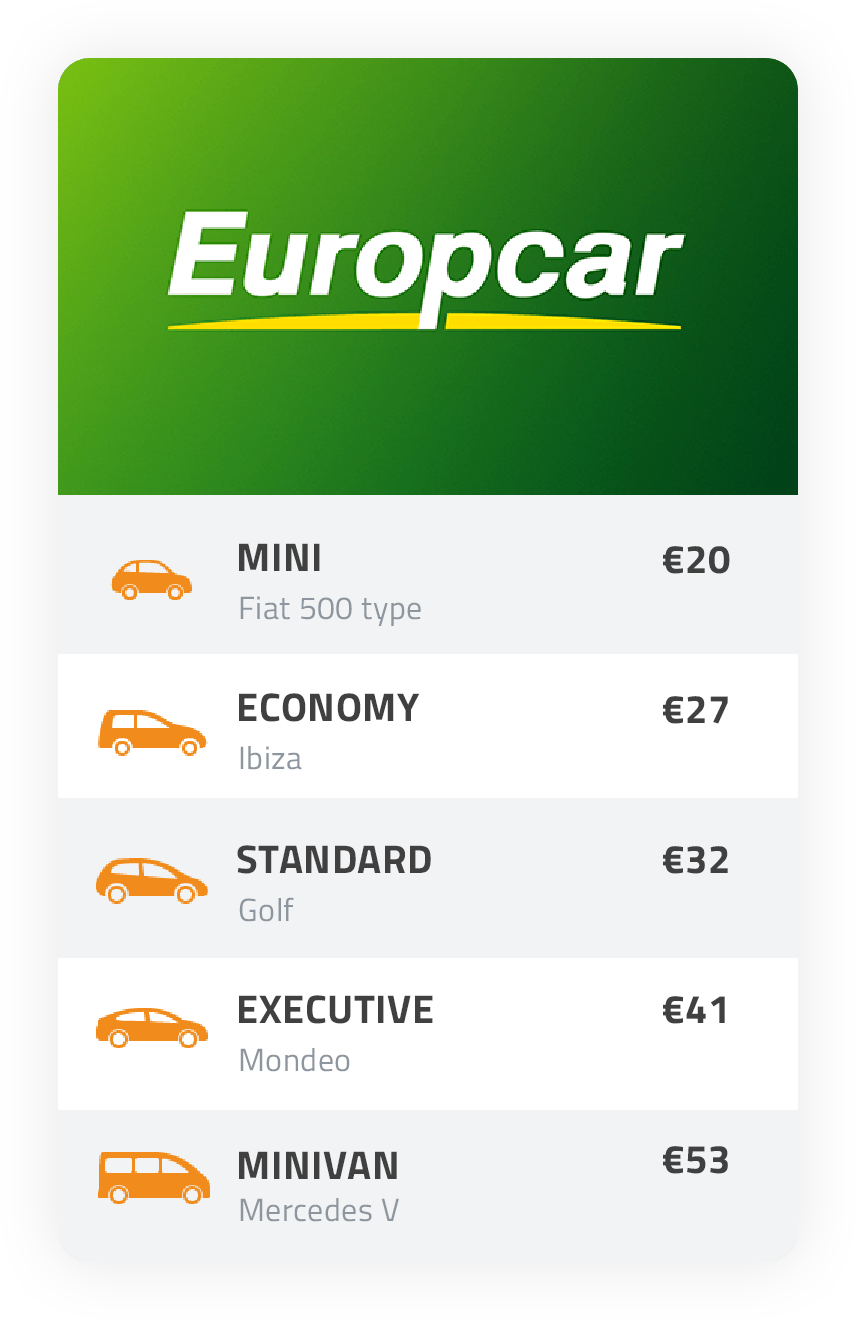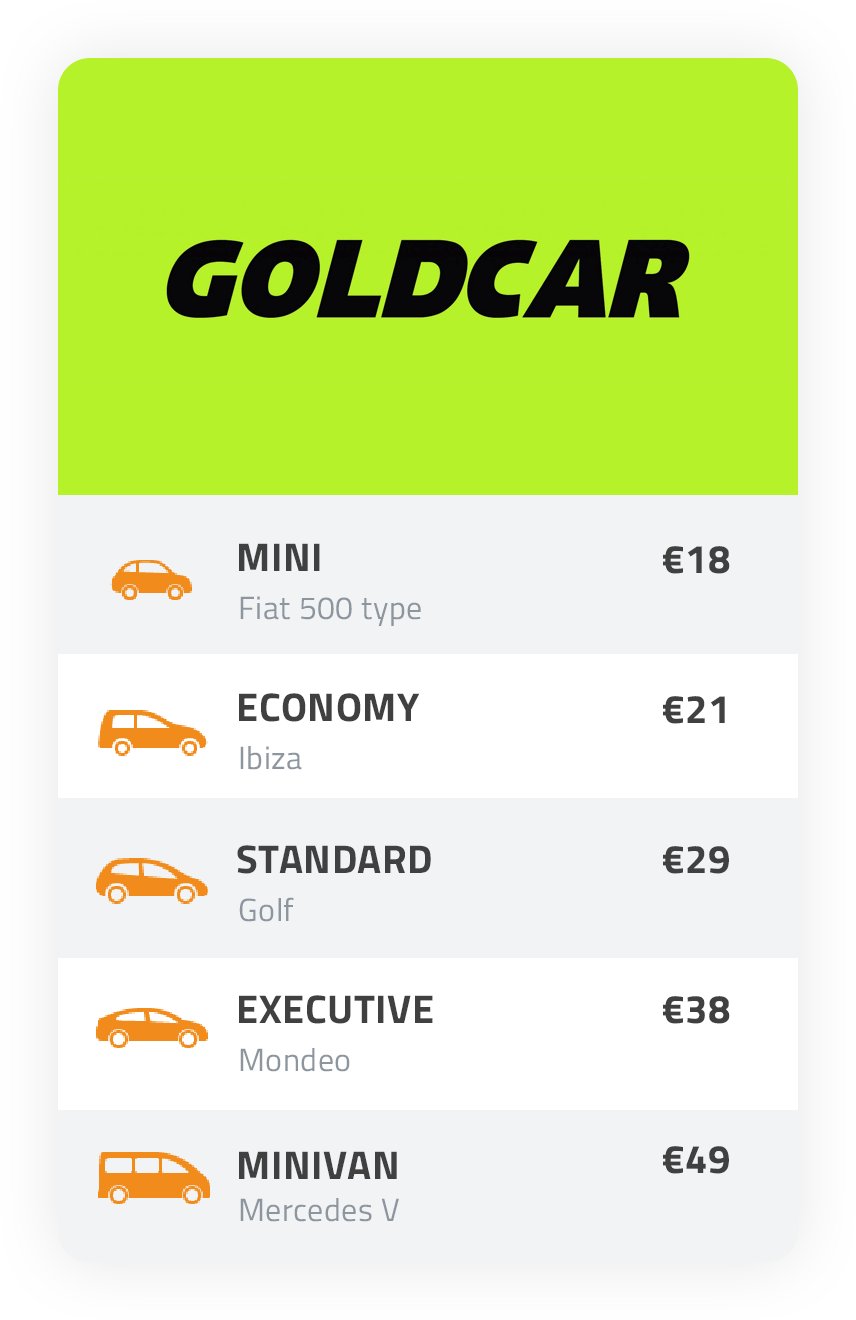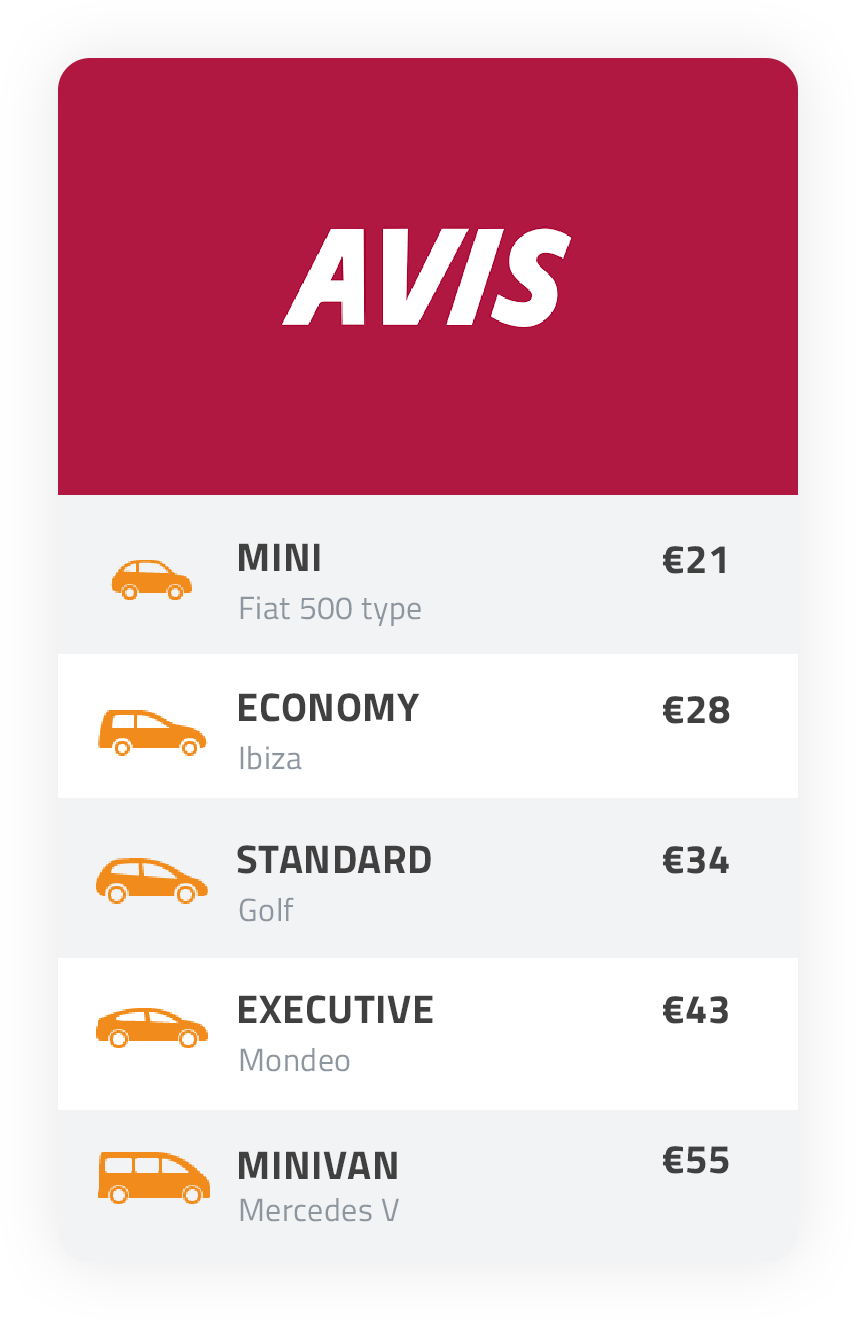 Prices for car hire at Tenerife Airport can vary dramatically depending on the time of year, type of vehicle, fuel policy, and extras. In order to get the best deals, it is a good idea to book ahead of time. Many car hire suppliers offer a free cancellation policy, should your plans change unexpectedly.
Extras, such as child seats, GPS, WiFi, and additional drivers, are added to the daily cost and can substantially increase the total price. Therefore, to find the best deals for Tenerife car hire, it is advisable to buy only the extras you really need.
Choosing Car Hire
at Tenerife South Airport
Getting the best car hire deal to meet your needs can be a frustrating process. However, with a little forethought and planning, it is often possible to pick up a bargain when hiring a car at Tenerife South Airport. Do keep in mind the following:
A smaller car isn't necessarily the cheapest car to rent.
Booking directly with a car rental company can turn out to be very expensive.
You can find some great deals when you use a car hire search engine like the one at the top of this page.
If you are on a tight budget and with only one travel companion, then a Ford Fiesta or Renault Clio will probably do just fine. However, if you're travelling with a bigger group and plenty of luggage, you will need something like an SUV or a large estate car.
When in the booking process, you will be able to discern what is adequate for your needs and make your choice accordingly. Tenerife South Airport generally offers a wide selection of cars, but booking early is essential to ensure availability and to secure the best price!
When to Book your Tenerife Car Hire
Pre-book

online
If you want to save time and money, then this is undoubtedly the best option! By using the search engine on our website, you can view a wide range of up-to-date car hire offers and you have access to all the major car rental firms in Tenerife. Check all the current deals and select the one that is best for you.

To get the lowest price, we recommend arranging your car hire as early as possible. If you leave your booking to the last minute, you generally pay considerably more and your choice of vehicles is limited.
Important tip: If you see a price that appears too good to be true, carefully read the terms and conditions. Most likely, you will find a clause that requires you to pay a much higher price for fuel and other items.
On arrival

at Tenerife South Airport
If you choose not to pre-book, there are plenty of car rental desks in the terminal building at Tenerife South Airport. However, as the airport can get busy all year round, you may need to queue for a while.
Also, when booking car rental directly at the airport's car hire desks, you will generally be charged much higher rates. Therefore, you can save time and money by planning ahead and booking your car hire before you travel to Tenerife.
Tenerife South car hire fuel policies
The price you pay for your car rental doesn't necessarily cover all the cost. This will depend on the car hire company's fuel policy. Be sure to read the small print to see the terms.
Your car is supplied with a full tank of fuel. You will need to return the vehicle with the same amount of fuel in the tank as you collected it. As long as you re-fill what you have used there will be no additional charges. At TFS Tenerife Airport as there are plenty of petrol stations close by, so re-fuelling should not be a problem. This option can seem slightly more costly at first glance but may end up being the most cost-effective in the long run.
Your car is supplied with a full tank of fuel, which you will need to pay for on collection of the vehicle. The hire company can decide how much to charge for the fuel, which is likely to be more than you would pay at the petrol station. Ideally, you will return your hire car with an empty tank, as you will not be refunded for any unused fuel. Therefore, this option only makes financial sense if you are likely to use up all or most of the tank. The advantage is, that you don't need to visit a petrol station on your return.
Your hire car will have a full tank of petrol when you pick it up from Tenerife South Airport and you'll have to pay the full cost for it. Again, the car hire company sets the price for the fuel. When you return the car, the cost of the remaining fuel will be calculated and refunded to your card, minus an admin fee according to the rental contract.
Insurance
TFS car hire insurance and breakdown cover
Most car rental agreements include cover for Collision Damage Waiver (CDW) and theft protection, and some even include basic breakdown cover. But remember, in the event of an accident causing damage to the vehicle, or the vehicle being stolen, you will have an "Excess" premium to pay. As always, check the small print, and drive with caution.
Card payment
When booking a hire car with any of the major companies you will need to present a credit card at the Tenerife South Airport car hire desk. Some rental firms may accept a debit card for payment but this tends to be the exception, as a credit card covers the company for any potential financial expenses incurred.
Excess payment
When payment is made with a credit card, the company only holds the amount for any potential excess. It does not debit the excess payment, unless this is required for any damage caused.

Excess insurance
If you pay by debit card, some car hire companies will require you to purchase their comprehensive insurance cover, irrespective of whether you have purchased your own insurance beforehand. This will not be required if payment is made by credit card.
You can pay much less if you arrange Car Hire Excess Insurance in advance. You can get a whole year of excess insurance for around €40 per year. Obtain a quote online with iCarhireinsurance.com.
Extras
You can add a variety of optional items to make your driving experience in Tenerife more comfortable and enjoyable. However, the majority of add-ons are priced per day, and they can easily double the cost of your rental car! The most cost-effective way to eliminate paying for extras to your rental agreement is to bring your own GPS, child car seat, etc.  Most major airlines will allow you to check in a child car seat or booster seat free of charge in addition to your hold-luggage.
Available extras with TFS Airport car hire:
Petrol stations
Near Tenerife South Airport

If you need to return your car with a full tank, the closest option is a BP petrol station located at Atogo. This is on the other side of the TF-1 to the airport, about 1km away.
Airport service stations are of course never the cheapest. You may be better off using one of the following garages close to the airport instead:
Cepsa, Avenida, 38610 Tenerife, Santa Cruz de Tenerife, Spain ….1km away
DISA, Carretera Aeropuerto Reina Sofia S/N, 38610, Santa Cruz de Tenerife ……2km away
BP, Cr De, Autop. del Sur, S/n, 38611 Atogo, Santa Cruz de Tenerife…..2.5km away
Age requirements to hire a car at Tenerife South Airport
Many car hire companies at Tenerife Airport will not accept drivers under the age of 21. If you are between 21 and 25, you are usually limited to entry-level vehicles and you may need to pay a young driver fee. Less commonly, people over the age of 70 may also be required to pay a supplement and to take out additional insurance cover.
Depending on the car rental company's policies, you may only be able to hire a car if you have had your driving licence for a minimum of 2 years, even if you are over the age of 25.
It is, therefore, best to check the terms and conditions of the specific company you are interested in renting from. You can usually find this information on their website or by contacting their customer service.
Some providers may allow you to rent a car if you have held your license for less than 2 years, but they may require you to pay an additional fee or purchase extra insurance to cover the increased risk.
Do I need an international driving licence to hire a car at TFS?
Whether an International Driving Permit (IDP) is needed, depends on your rental firm. Some TFS car hire companies only accept driving licenses issued in the EU or the UK and request an International Driving Permit for licence holders from all other countries.
Other companies only require an international driver's licence if the holder's own licence is printed using a non-Roman alphabet (Arabic, Japanese, Cyrillic, etc), is not written in English or was issued in a country not party to the International Driving Permit treaty.
It is important to note that the International Driving Permit is valid only if accompanied by the holder's regular driver's licence.
Please enquire with the car hire company in good time, in case an International Driving Permit is needed.
Pick-up and drop-off times
When hiring a car at TFS Tenerife South Airport, you could easily save money by being smart about your pick-up and drop-off times. A day is calculated as a complete 24-hour period. If you pick up your car at 3 pm on Saturday and return it at 4 pm on Sunday, this equates to 25 hours in total. You will, therefore, be charged for two days of rental. To save money, try to return your hire car at least one hour before the original pick-up time.
It's also worth noting that you'll be charged more if you pick up your car very early in the morning or late at night. Most hire companies demand a significant premium for pickups between 11 pm and 7 am, while others don't even give the option of an out-of-hours collection. So, if you're intending to rent a car after a late arrival at TFS Airport, be aware that your options will be limited and costly.
How to cancel your hire car
You will be able to cancel your booking up to 24-48 hours in advance of your pick-up date, depending on the company you have booked with. In most cases, you will not be charged a cancellation fee. Do check the cancellation terms of the car hire company you have made your reservation with.
How far can I go in my Tenerife hire car?
The rules for this vary, depending on the company and your specific contract. Some car hire contracts will give you unlimited mileage and will allow you to go on a ferry with prior permission and against a fee. Others may set a mileage limit and may exclude the use of ferries altogether.
Therefore, if you are likely to need a lot of mileage or if you are thinking of visiting one of the neighbouring islands (La Gomera can be reached by ferry in one hour from Tenerife), you will need to check with your car hire company first.
Crossing borders is generally not allowed, so a trip to the African mainland, though technically possible, is not an option in your hire car.
Collecting your car
at Tenerife Airport
When it's time to collect your car from Tenerife Airport, have your passport, credit card, driving license and booking confirmation handy to speed things up. If you're from the UK, you'll also need to obtain a code from the DVLA and show it at the rental desk. The credit card you are using should be in the name of the main driver.
---
Please note: This page contains affiliate links. If you choose to make a purchase after clicking a link, tfsairport.com may receive a commission at no extra cost to you. For more information, please see Terms and Conditions.