Airport Info
Tenerife South Airport Parking
Tenerife South Airport has a general customer car park, which can be used for short-term parking and also for longer parking durations. For long-term parking, it is a good idea to book in advance, as this will be cheaper.
General car park Tenerife South
The parking facilities at Tenerife South Airport at the P1 general car park, are managed by AENA, the airport operator. This secure car park is open 24 hours a day and has ample parking spaces, some of which are reserved for people with limited mobility. For short-term parking, there is no need to book ahead. Your car is insured for damage or theft whilst on the premises. However, please note that this insurance does not include any objects left inside the vehicles.
How do I get to the airport car park?
Coming from the TF-1 motorway, follow the road into Tenerife South Airport. From here, the way to the car park is signposted. There are two entrances for you to choose from. These are marked P1 Entrada 1 and P1 Entrada 2. The car park is just a few minutes' walk away from the airport terminal, opposite the arrivals hall.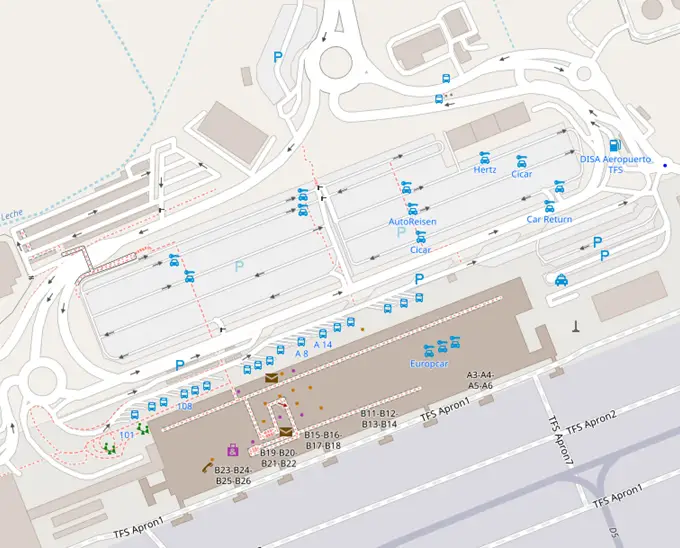 Is there any express parking or a drop off zone?
There is a drop-off zone outside departures, where you can stop briefly, e.g. when dropping off a friend or relative. If you leave your car unattended in the drop-off zone, you run the risk of getting fined or towed away.
If you need to park and leave your vehicles for a short period of time, e.g. when collecting someone from the airport, you can make use of the general P1 car park, as the first 30 minutes are free of charge.
Short-term parking at Tenerife South Airport
For short-term parking, there is no need to book ahead. You simply collect a ticket at the barrier, when entering the car park. Your number plate will be scanned automatically, so you won't have to touch any keypads.
When you are ready to leave, you will need to pay for your parking at one of the pay stations before you get back into your car. You can then drive to the exit, where your number plate will be scanned again and the barrier will open automatically.
Long-term parking at Tenerife South Airport
At some airports, the long-term parking facilities are located slightly further away from the terminal building. Not so at Tenerife South, where it is possible to leave your car in the P1 car park, right opposite the terminal building, for longer periods of time. However, if you need parking for several days or even weeks, it is advisable to book in advance, as this will be much cheaper.
You can make a booking via the following link or on the AENA website.
Returning your hire car
The hire cars can also be found in the P1 car park. If you want to return your vehicle, simply follow the rental car signs and find the bays allocated to your car hire company.
Enquiries
Aena customer assistance:
Tel: (+34) 91 321 10 00
Email: aenaaparcamientos@aena.es
---
Related pages
You may also be interested in our page
---
Please note: This page contains affiliate links. If you choose to make a purchase after clicking a link, tfsairport.com may receive a commission at no extra cost to you. For more information, please see Terms and Conditions.