Locations
Locations in Tenerife
Puerto de la Cruz
Puerto de la Cruz (Port of the Cross), is situated on the north coast of Tenerife at the foot of the La Orotava Valley. The drive from Tenerife South Airport takes approximately 1 hour by car.
Puerto de la Cruz is a popular destination, which still retains a lot of the original architecture in the old town and has a more typical Canarian feel than other resorts on the island.  The town has lots to offer, with many old narrow streets to wander through and take in the surrounding history, not to forget the great selection of bars and restaurants to choose from.
Weather in Puerto de la Cruz
Situated in the north of the island, the weather generally isn't as warm and settled as in the south but by no means does this mean the weather isn't good. Due to Puerto de la Cruz's sheltered position by the Orotava Valley it is drier and sunnier than the rest of the north of the island. 
The winter months are cooler and wetter than the summer months but it is nevertheless a great place to visit during the winter months.  Temperatures tend to average between 20 -25 degrees.  Rainfall during the winter months is generally light, but there can be heavy showers during November and February. 
During the summer months, the average temperature can easily reach 30 degrees upwards. Rainfall is extremely low during the summer months with long days of sunshine and the sun not setting until after 9.00 p.m.
---
What to do in Puerto de la Cruz
You can find some great restaurants and places to eat in Puerto de la Cruz.  It has a good variety of shops and interesting streets and plazas to explore.  Historic buildings with a great selection of cafes and bars make it the perfect place to wander and take in the history.
Loro Park
The world famous "Loro Park" is an animal adventure park and is a must for every visitor to Tenerife. Opening hours are from 08.30 am to 6.45 pm daily.
There is a wide variety of animals to visit and animal shows throughout the day.  You can find different exhibitions at the park and there is probably too much on offer to fit all in one day. The Orca and dolphin show is excellent.  Make sure you don't sit in the splash zone if you don't want to get wet!
Of particular interest is the baby station, where visitors can see the care given to baby chicks and other animals, which have hatched at the park.  The Penguinarium at Loro Park is definitely the place to go to if you love penguins.  The Penguinarium has endeavoured to reproduce the natural living conditions of the penguins and an attraction that all visitors enjoy.
There is good wheelchair and disabled access. There are also wheelchairs and disability scooters for hire. There are seven restaurants and bars in the park offering a wide selection of food and drink. Alternatively, you can take your own lunch and drinks with you. Check the Loro Park website for more details and ticket prices.
Parque Taoro
Parque Taoro (Taoro Park) is definitely worth a visit if you are staying in Puerto de la Cruz. Situated on a steep hillside, it is more than 100,000 square meters in size and home to a wide variety of species of trees, plants and shrubs set in beautiful landscaped gardens.  The steep climb to the top is rewarded with great views down to Puerto de la Cruz and a café where you can rest your legs. Parque Taoro is a restful park with waterfalls and seating areas popular with dog walkers and joggers.
Costa Martiánez (Lago Martiánez)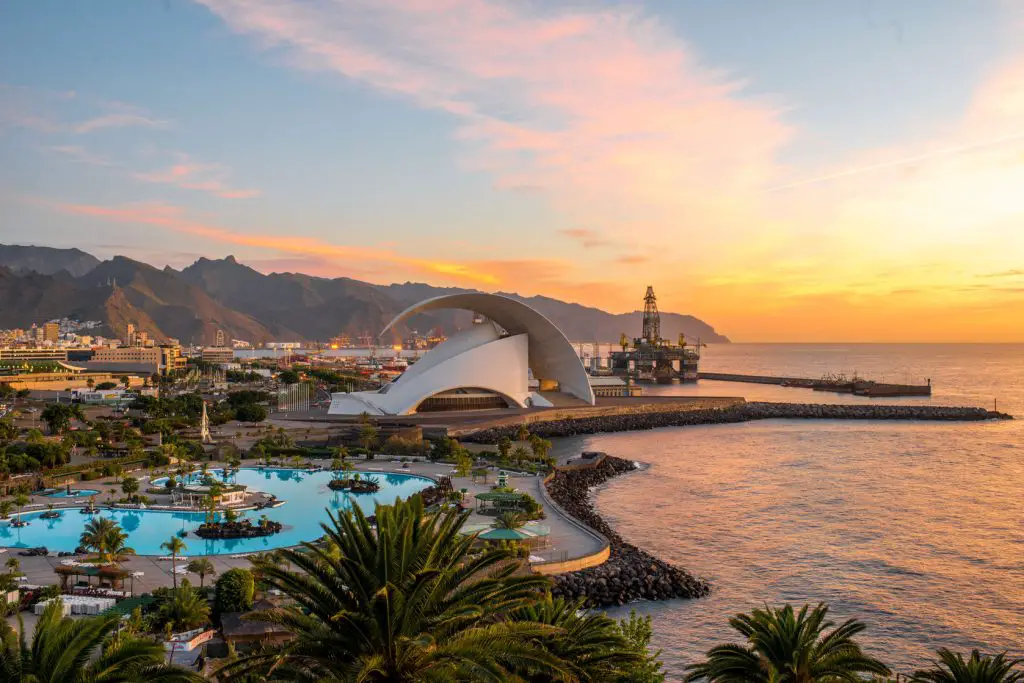 Situated at the end of Playa Martiánez in Puerto de la Cruz.  Costa Martiánez is an open air swimming pool complex, based around an artificial salt water lake with seven pools and jacuzzi.  Making it the perfect location to spend the day.
Designed by César Manrique, a local artist from Lanzarote, Costa Martiánez, centres around the large salt water lake.  There is a volcanic water crater in the middle of the lake which fills the lake with salt water.  Along with El Geiser firing water up to a height of 50 meters, it makes these fascinating water sculptures to watch as you relax.
This is a great place to spend a day for the whole family.  There are lots of free sun loungers.  The complex is well kept and clean with shower and toilet facilities.  If you don't want to be exposed to the glaring hot sun, you have the option of hiring a parasol for the day. 
There are several restaurants, snack bars and bars to buy food and drink during your stay in the resort.  Alternatively, you can take your own food and drink with you.
---
Beaches in Puerto de la Cruz
Playa de Martiánez
Playa Martiánez is a black sand beach in the resort situated next to Lago Martiánez.  Due to the sea conditions, it is a very popular place for surfers, which also features a surf school.  The beach does not have any sunbeds to hire and while the strong sea conditions mean are popular with surfers, they are not ideal for families.  However, there is a lifeguard on duty on the beach and it is a great place to watch the surfers, relax and sunbathe. 
There are plenty of shops, cafes and bars along the promenade to the beach, making it an ideal place to stop off and take in the coastline. There is also good wheelchair access along the promenade and to the beach.
Playa Jardín
The gardens at Playa Jardín were designed by César Manrique.  The beach itself is divided into three parts.  It is a black sand beach in Puerto de la Cruz, made up of Castillo beach, Charcón beach and Punta Brava beach. A breakwater in the sea protects bathers, but in the winter months rough sea conditions may mean no swimming is permitted.  A life guard is on duty. 
Playa Jardín is the perfect beach destination to relax.  The nearby gardens and pathways to the beach were created to add to the relaxed environment.  Sunbeds and parasols are available to hire on the beach.  Changing and toilet facilities are available and there is easy access for wheelchair users.  A small café can also be found nearby.
Playa De El Bollullo
Playa El Bollullo is a beautiful secluded natural black sand beach 4km east of Puerto de la Cruz. The beach can either be accessed by car or on foot.  The road down the cliffs to the beach is narrow and winding and you need to watch out for oncoming traffic.  There is a car park where you can park for 3,00 Euros for the day. 
You then make your way to the beach via a pretty pathway and some steep steps.  The effort to get to the beach is well worth it.  The scenery and dramatic coastline make Playa El Bullollo one of the prettiest beaches in Tenerife. Sea conditions here can be quite rough, which is not ideal for small children.  However, the place is very popular with surfers and body boarders.  There is a life guard on duty at the beach.
There is only one small beach bar (chiringuito)at the back of beach, so you may want to bring your own refreshments if you are planning on spending the day there.  Definitely a beach worth visiting if you are prepared for the steep winding drive down and the walk and steps before you get to your destination. It is not wheelchair friendly and is not recommended for people with mobility issues.
Playa de San Telmo
A natural black sand beach set back in a small cove.  The sea conditions can be rough here, however the scenery is fascinating to watch, especially when the waves crash in against the rocks. There is a life guard on duty.  If you don't want to go down to the beach itself, you can admire the view from the promenade above.
---
Shopping in Puerto de la Cruz
There is a good selection of shops in Puerto de la Cruz and some great places to pick up a few holiday souvenirs. If you want a bigger selection of shops, then midway between Puerto de la Cruz and the town of La Orotava you will find La Villa Centro Comercial.  This Spanish shopping mall has a varied selection of shops, cafes, restaurants and a supermarket.  It's the perfect place to visit if the weather isn't so good. Equally, if you are feeling too hot, you may enjoy cooling down with the help of the air conditioning.  Not to forget about some retail therapy, too….