Locations
Things to Do Tenerife
Bike Point Tenerife
Bike Point Tenerife have two shops in Tenerife, in Las Americas and El Médano.
From their shops they offer either road or mountain bikes for hire.  They have an extensive range of high quality bikes which are all well serviced and looked after, ensuring you get the best out of your ride.
If you enjoy a road bike or a mountain bike, then Tenerife is the perfect place and you will be able to hire the right bike for your needs at Bike Point Tenerife.
For the rider not so keen on a steep terrain and if you just want to enjoy a day out on a bike then they also have electric bikes for hire.
Bike Hire
Road bike hire starts from 19,00€ per day.
Mountain bike hire starts from 13,00€ per day.
Electric bike hire starts from 29,00€ per day.
Bikes for Sale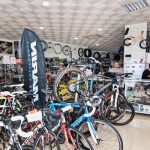 If you are looking for somewhere to buy a bike in Tenerife they also stock bikes for sale.  They are official dealers for BMC, BH, Focus, Kalkhoff and Ridley.
As well as  new bikes, Bike Point Tenerife have a good selection of quality second hand bikes for sale.  Call or ring their shop to see what stock they currently have on offer as it is constantly changing.
Clothing & Accessories
If you need any biking accessories or clothing, shoes etc they stock a large selection of well known brands.
Bike Tours Tenerife
If you want to experience a bike tour in Tenerife they have bike tours to cater for all levels and experience.
Road Bike Tours
There is a choice of Intermediate or Advance Tours.
An Intermediate Tour is a more relaxed pace, allowing you to take the time to enjoy the scenery.  Your guide will give you a very interesting and enjoyable tour and all the guides are friendly, enthusiastic and knowledgeable.  Each tour has the backup of a tour vehicle and professional mechanic should you run into difficulties.  At the end of your tour you will enjoy a typical Canarian lunch.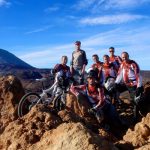 The Advance Tour will really push you and if you are after a good work out, maybe some training and some fantastic scenery flying by then you will enjoy this tour.  Again, a perfect end to the tour is your well deserved Canarian lunch.
Tenerife is a popular destination for professional cycling  teams such as Team Sky who do their training here.  So if you want some hard core bike training then Bike Point Tenerife is the place to visit.
Contact Bike Point Tenerife
To find out more about Bike Point Tenerife and everything they have to offer from bike hire, bike sales, bike tours, cycling clothing and equipment, contact them direct.
Bike Point Tenerife ( Las Americas )
Telephone:  (+34) 922 796 710
Email:  info@medanobike.com
Website:  www.bikepointtenerife.com
Address:  Av. Quinto Centenario s/n, Edificio las Terrazas, 38660, Las Americas
Opening Hours:  Monday to Sunday 9-13, 14-18 hrs
Bike Point Tenerife (El Médano)
Telephone:  (+34) 922 176 273
Email:  info@medanobike.com
website:  www.bikepointtenerife.com
Address:  Calle Villa de la Orotava 10, 38612, El Médano, Tenerife
Opening Hours:  Monday to Saturday 9-13 hrs & 14-18.  Closed Sunday