Tenerife Top Paragliding
Conquer Tenerife Skies the Safest Way – With Tenerife Top Paragliding
Tenerife Top Paragliding is a team of professional paraglider pilots with many years experience and a passion for flying.
Tenerife is the perfect place for paragliding with some of the best weather in Spain meaning you can fly most days of the year in spectacular scenery. 
For a fun experience they will do everything to make sure you have an amazing flight – because they care.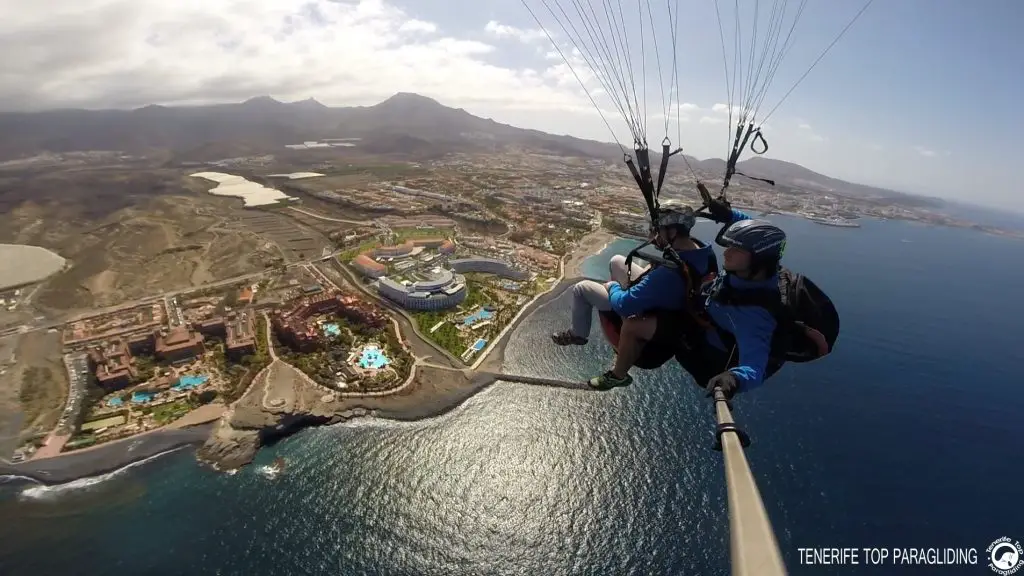 Tandem Paragliding

Tandem paragliding offers the opportunity to experience the feeling of flying like a bird.  Their professional team of pilots will sail you through the most beautiful skies of Tenerife, while you enjoy your adventure.
No experience is necessary.  One of their pilots will sit behind you and will do all of the work while you just sit back, relax and enjoy the view.
Pretty much anyone can enjoy a Tandem Paragliding flight from 8 to 108.  People with disabilities or in a wheelchair can also be catered for and experience the joy of paragliding.
Any person weighing up to 100kg can enjoy the flight.
It is recommended when flying that you wear comfortable shoes with closed toes and suitable clothing depending on the weather conditions.
Your Flight
If this is your first time paragliding there is no need to worry. There is no free falling or jumping off cliffs during paragliding take off.  The launches and landings are slow and gentle.  Once in the air you will be surprised by how quiet and peaceful the experience is.
During your flight you will be able to take breathtaking photos with your camera.  They will also make a HD video of your flight which you can choose to buy later.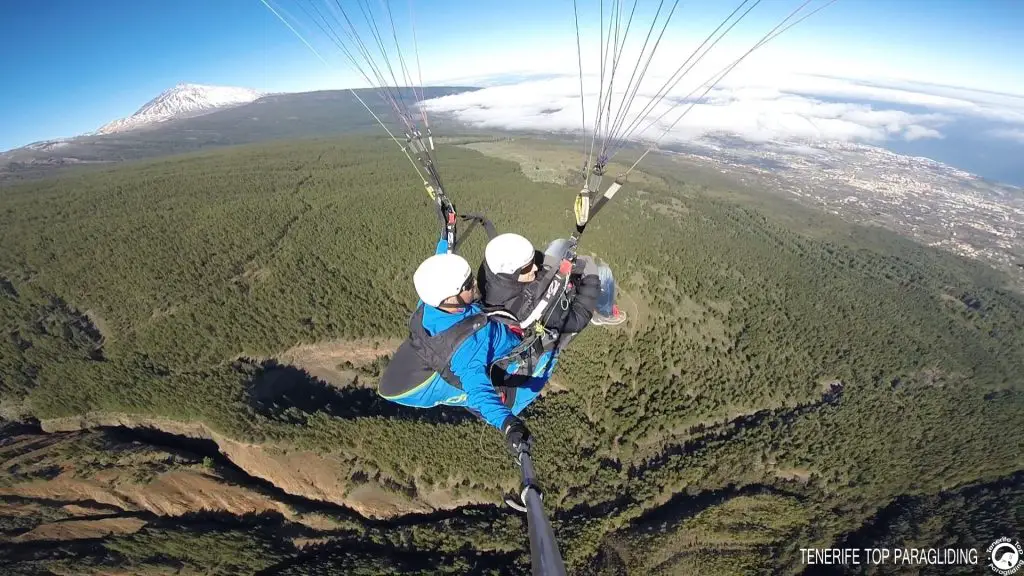 Meet the Team
Tenerife Top Paragliding are a fun energetic team who are always excited to fly.
They are professional pilots with many years flying experience on the island.
James Marsh
Started flying when he was 14 years old and is the founder of Tenerife Top Paragliding.  He enjoys flying with people over Tenerife's mountains and Atlantic oceans sharing this unique experience.
Goyo
Went to buy a motorcycle and ended up taking a paragliding course with the guys in the shop and has been flying ever since.
Tony
A former surfer, took a paragliding course with his brother which started a passion for flying.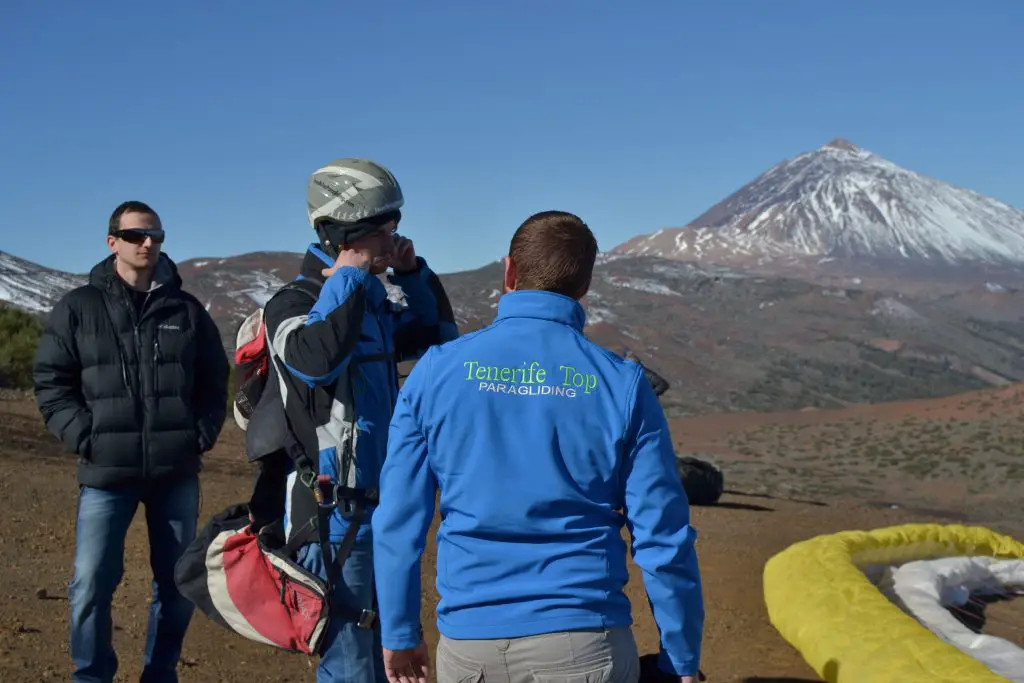 Flying Equipment
Their equipment is regularly renewed, carefully selected, reviewed and approved by the relevant certifying companies. Safety is a priority.
Paragliding Flights in Tenerife
Tenerife Top Paragliding will pick you up and drop you off at your home or hotel. 
Group flights for up to 6 people can be accommodated.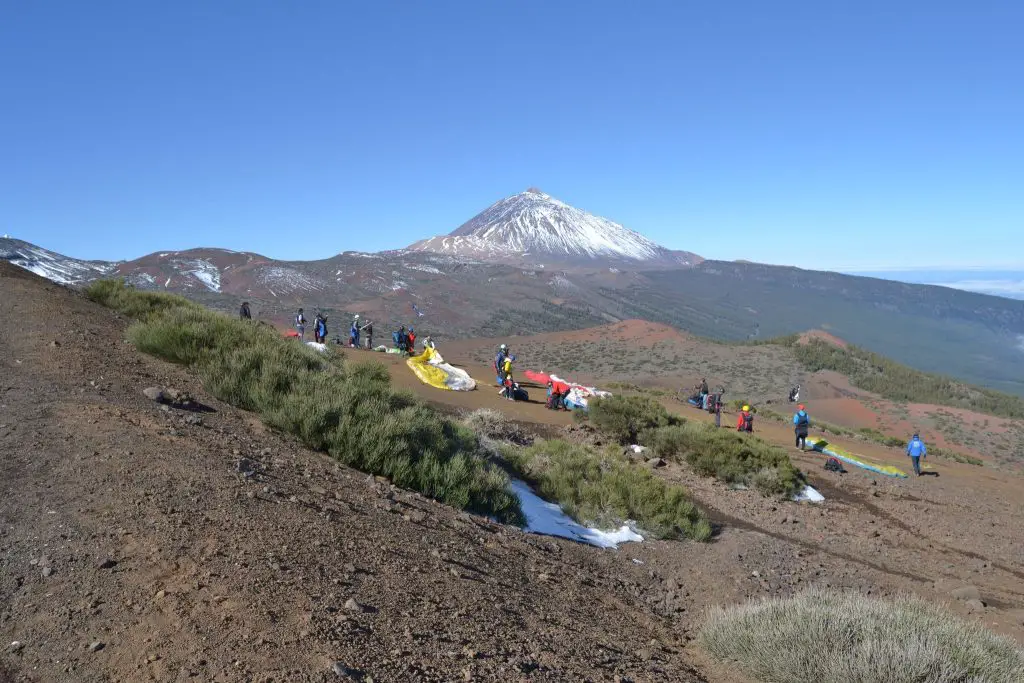 Hawk's Flight
The flight from Taucho is the most popular choice with their customers and highly recommended for your first flight experience.
This flight lasts between 15 and 25 minutes depending on weather conditions.
You will take off from 800 meters and fly between ravines and mountains passing over the small village of La Quinta and the town of Adeje.
Proposed landing on La Enramada beach at La Caleta
Price: 90 Euros (85,00 Euros if you pay online)
Falcon's Flight
The flight from Ifoche, is for you if you want a longer flight over Adeje.
Taking off from 1100 meters, you will fly for 30-40 minutes, towards the sea, between  mountains and ravines over Adeje and Fañabé
Landing (depending on weather conditions) at La Enramada beach in La Caleta.
Price 135,00 Euros (130,00 Euros if you pay online).
Eagle's Flight
The flight from Izana is like no other flight!
You will love this flight if you want to experience a long, relaxing flight with incredible views of Teide Natural Park.
Taking off from 2200 meters, you will make a slow descend to the coast about 40 minutes.
Depending on weather conditions landing in either Puerto de la Cruz or Puertito de Guimar.
Price 170,00 Euros (165,00 Euros if you pay online)
Gift Certificate
For a special occasion why not buy a gift certificate.  Create a special memory with a gift certificate by contacting Tenerife Top Paragliding with your request and they will provide you with a named gift certificate.
Contact:
Tenerife Top Paragliding
Adeje
Tenerife
Telephone (34) 652 594 544
info@tenerifetopparagliding.com
www.tenerifetopparagliding.com