Airport Info
Smoking at Tenerife South Airport / TFS
Can I smoke at Tenerife South Airport?
Smoking is not allowed inside the Tenerife South Airport terminal building. In line with most airports around the world, Tenerife South is a non-smoking facility. Smoking at the airport is only permitted in designated areas outdoors.
Where are the designated smoking areas at Tenerife South Airport?
These are located outside the terminal building. There are several smoking areas available, which are clearly marked. These are located in different parts of the airport grounds, so you should be able to find one that is convenient for you.
Arrivals



You will not be able to smoke at Tenerife South Airport until you have cleared security and left the terminal building. One of the designated smoking areas is located near the arrivals area, outside the terminal building, close to the main entrance.
Departures – Landside



Smoking is not allowed anywhere inside the departures hall. If you want to smoke before taking a flight from Tenerife South, you will need to use a designated area outside the terminal building. One of these is close to the main entrance and there are also several smoking areas located in the airport's outdoor parking facilities.
Departures – Airside



If you would like to have a cigarette after you have cleared security, you can do so on the private terrace of the airport's Montaña Roja VIP Lounge, for which you will have to pay an entrance fee. See here for more information about the Montaña Roja VIP Lounge.
Designated smoking areas at Tenerife South Airport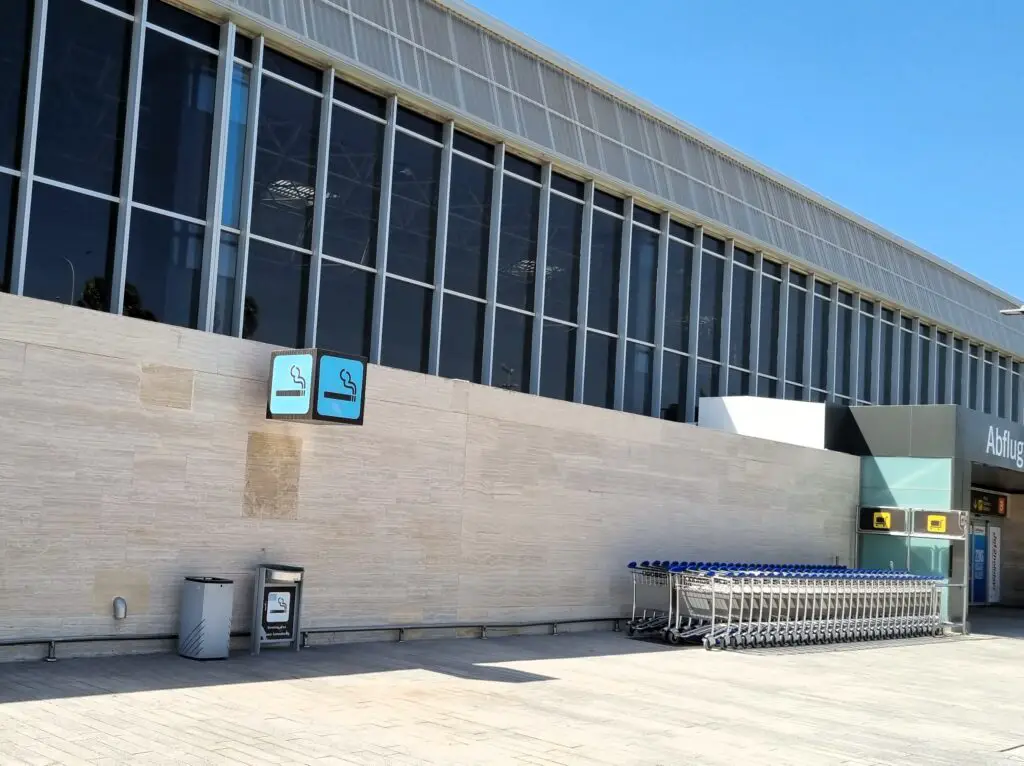 ---
Can I use e-cigarettes or vapes at Tenerife South Airport?
The use of e-cigarettes or vaping devices is also prohibited inside the terminal building of Tenerife South Airport. This is because e-cigarettes are considered a form of smoking and are subject to the same restrictions as traditional cigarettes.
It's also worth noting that regulations regarding e-cigarettes and vaping devices can vary from country to country. So if you're travelling internationally, it's a good idea to check the rules and regulations regarding their use at your destination airport.
Do I get fined if I smoke at TFS?
Yes, if you smoke in a non-designated smoking area at Tenerife South Airport, you are likely to face a fine. Spain, as well as as many other countries, has laws and regulations prohibiting smoking in indoor public areas, including airports. This is to protect non-smokers from the harmful effects of second-hand smoke. Smoking in non-designated smoking areas may, therefore, result in fines or penalties. Hence, it is advisable to follow the smoking rules and regulations while at the airport.
---
Tips for smokers during air travel
If you are a heavy smoker, the thought of not being able to light up for a period of several hours may fill you with dread. Here are a few things to consider in preparation for your journey:
Check the airline's smoking policy before you book your flight. Most airlines have banned smoking altogether or only allow smoking in designated areas at the airport.
If you are planning to have a smoke in a designated area at the airport before you fly, make sure you budget enough time to get to the smoking area before boarding your flight.
Pack a pocket ashtray or a small resealable bag to hold your cigarette butts. It's important to dispose of cigarette butts properly, as littering can result in a fine.
Plan ahead and bring nicotine replacement products like gum, patches, or lozenges to help you manage cravings in the airport terminal and during the flight.
As tempting as it may be to have a relaxing glass of beer or wine, try to steer clear of alcoholic beverages. Drinking alcohol can increase your nicotine cravings and may, therefore, not be helpful.
Keep yourself (and your hands) occupied. That is easier said than done during air travel, so it helps to come prepared. Download some games on your phone or tablet before the flight. Bring some crossword puzzles or mini travel board games, etc.
Some people find snacking helpful. If you don't want to splash out on the snack boxes that are on offer from the airline, bring your own biscuits, crisps or whatever it is you like nibbling on.
---