Locations
Locations in Tenerife
Los Cristianos
Situated in the south of Tenerife, Los Cristianos is approximately a 15-minute drive from Tenerife South Airport. It is is one of the most popular resorts on the island. The town, which is situated around the bay of Los Cristianos, has a lot to offer!  The resort has a slightly more laid back feel than nearby Playa de las Americas and generally appeals to families.
There are some great beaches for families to enjoy with long stretches of sand and lots of options for water sports. There are also many bars, restaurants and cafes to choose from. Regardless of your requirements, there are a variety of options for accommodation to choose from and there is something to meet all budgets.
The marine walk behind the beaches is an ideal location if you want to stretch your legs and may be stop off for something to eat or drink.  If you have mobility issues and need to use a wheelchair or mobility scooter, the marine walk at Los Cristianos is easily accessible and flat.
---
Beaches at Los Cristianos
There are two main beaches in Los Cristianos either side of the harbour.
Playa de Los Cristianos
Playa de los Cristianos is the main beach. Like its neighbouring beach, Playa de la Vistas, it is situated in a sheltered position, has calm shallow waters and a long sweeping stretch of fine soft white sand.  The long pier at the end provides protection for the beach, which makes it ideal to swim in.
Although the beach isn't as big as Playa de las Vistas there are plenty of sun beds and parasols to hire and water sports facilities. There are showers and toilet facilities situated on the beach. At the back of the beach there is a long promenade with a great selection of bars, cafes and restaurants to choose from.
Playa de la Vistas
The beach at Playa de las Vistas caters for everyone. A soft white sand beach, which is well protected due to the breakwaters, making the sea much calmer and shallower than further down the coast. The sea conditions make it an ideal place for families and young children and is child friendly and perfect for a paddle.  The beach also has life guards on duty.
The beach is nearly 1 km in length and is a pretty crescent shape. There are lots of sun loungers and parasols for hire. The beach is very clean and well-kept and equipped with toilets and showers.
Wheelchair facilities at Playa de las Vistas beach
Playa de las Vistas is one of the best beaches in the whole of Spain for wheelchair accessibility. It is well adapted and equipped to accommodate wheelchair users.  There are adapted toilets on the beach, solely for use by disabled visitors.
To enable access to the beach there is a decked area and entrance ramps.  The lifeguards will also help you with access on and off the beach, if needed.  For the less mobile there is even an amphibian wheelchair service available as part of the Sea Accompaniment Service.
This is a fantastic initiative, the aim of which is to provide accessible facilities for all beaches in the area for visitors with reduced mobility. The lifeguards will take the user in the amphibian wheelchair along the decked area and then along the beach into the sea.   The wheelchair allows the user to be taken to a safe depth in the sea from where they can then swim if they wish.
The adapted wheelchair service is available daily from 11.00 a.m. to 5.00 pm. in January, February, March, April, May, June, October, November and December. The service has extended hours during from 11.00 a.m. to 7.00 pm during July, August and September. The lifeguards offering this service are all trained to help visitors with reduced mobility.
Water sports at Playa de las Vistas beach
Playa de las Vistas has a great selection of different water sports, from banana boats, jet skis, windsurfing to scuba diving. The life guards on duty keep an eye out for anyone who might have got into difficulties.
Food and drink at Playa de las Vistas
After a morning on the beach, there is a neverending selection of bars and restaurants to choose from on the promenade and nearby the beach to have a drink or something to eat.
---
Activities in Los Cristianos
Los Cristianos has something for everyone. Besides two of the best beaches in Tenerife and brilliant water sports facilities, there is a lot more to enjoy.
Boat trips
There are a variety of boat trips from Los Cristianos where you can go dolphin and whale watching. If you enjoy fishing or want to try out your fishing skills there are many different trips that you can book to cater for your specific requirements.  You can book a half day or full day excursion.
Ferry to La Gomera
Why not try something different and catch the ferry from Los Cristianos to the nearby pretty island of La Gomera.  If you enjoy walking, then there are some excellent walks and hikes to do on the island. The ferry journey takes just under one hour.
If you wish to stay longer on the island, you can also book a short break or over night stay in La Gomera. You can book the ferry directly with the ferry company.  Do keep in mind that during busy holiday times the ferry can get very busy, so it is advisable to book ahead if you can.
You can also book a day's escorted boat trip across to La Gomera.
Shopping
If you fancy some retail therapy, there are many small shops and a couple of small shopping malls, apart from the usual tourist shops. The Passarella Oasis Centro Comercial has a wide selection of shops and a supermarket.  On the first floor you will also find numerous places to eat and drink.  There is even a play area to keep the children entertained in.
Market
The market in Los Cristianos is held every Tuesday and Sunday between 9.00 a.m. and 2.00 p.m. The stalls offer holiday souvenirs, clothing, shoes, leather products, bags and everything you expect from a street market in Spain.  You can also find some local Canarian made products to take home .
---
Excursions from Los Cristianos
Nearby Los Cristianos there are many day trips and activities for you to enjoy.
Playa de Las Americas
The neighbouring resort of Playa de las Americas may be worth a visit. A more lively resort than Los Cristianos, there are beaches with lots of water based activities and sea experiences to enjoy. There are numerous shops and a neverending choice of places to eat and drink. If you are looking for a good night life scene then Playa de las Americas is the place to go.
Karting
For the adrenaline junkies amongst you, why not try a morning or afternoon karting? Karting Las Americas have karts for all ages and abilities to suit all the family making it an enjoyable event for everyone. If you don't have your own transport it is easy to reach by public bus.  Take bus number 483 from Los Cristianos. Alternatively, the karting company have a free shuttle bus which will pick you up from Los Cristianos.
Siam Water Park
This is situated only a short drive away from Los Cristianos, in Costa Adeje. Siam Water Park is known for its thrilling water slides, exotic Thai-inspired architecture, and lush tropical surroundings. It offers a fun-filled and unforgettable experience for visitors of all ages. In 2023, it won the Tripadvisor Traveller's Choice Award for "best waterpark in the world" for the ninth year running.
The park boasts an impressive array of water slides and attractions that cater to different preferences and thrill levels. From adrenaline-pumping rides like the Tower of Power, where you plunge down a nearly vertical slide through an aquarium filled with sharks and rays, to the exhilarating Dragon slide and the twisting and turning Singha, there are plenty of heart-racing experiences to enjoy. For a more relaxed pace, visitors can float along the Mai Thai River or relax on the white sandy beach at the Wave Palace, one of the world's largest artificial wave pools.
Guided walks and hikes
If you enjoy walking and hiking then a guided walk or hike, to suit all capabilities is a great way to see the real Tenerife. If you want an easy relaxing walk to see some amazing scenery then this is an excellent day out. Alternatively, if you are an experienced hiker and want more of a challenge you can book this too.
Mount Teide and Masca Valley
You can easily drive or take a coach trip to the amazing landscape of Mount Teide and the breathtaking Masca Valley. Discover the natural beauty of the National Park and the surrounding area as you drive through the World Heritage Site.  Mount Teide is Spain's most visited National Park. When you get to Mount Teide take the cable car to  Spain's highest point.  On a clear day you can see Gran Canaria from here.
Nearby Resorts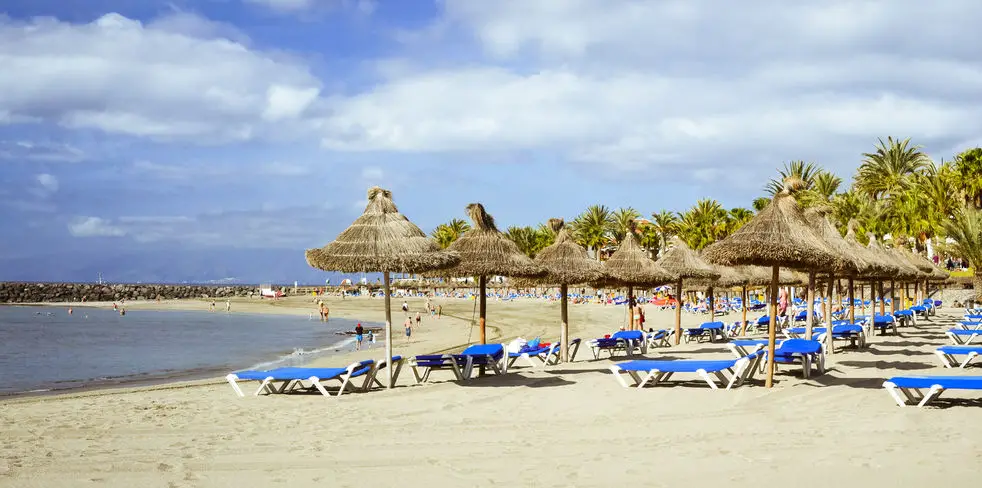 The party resort of Playa de la Americas is practically next door. It is only 3 km away and can be reached in under 10 minutes by car or in about half an hour on foot.
---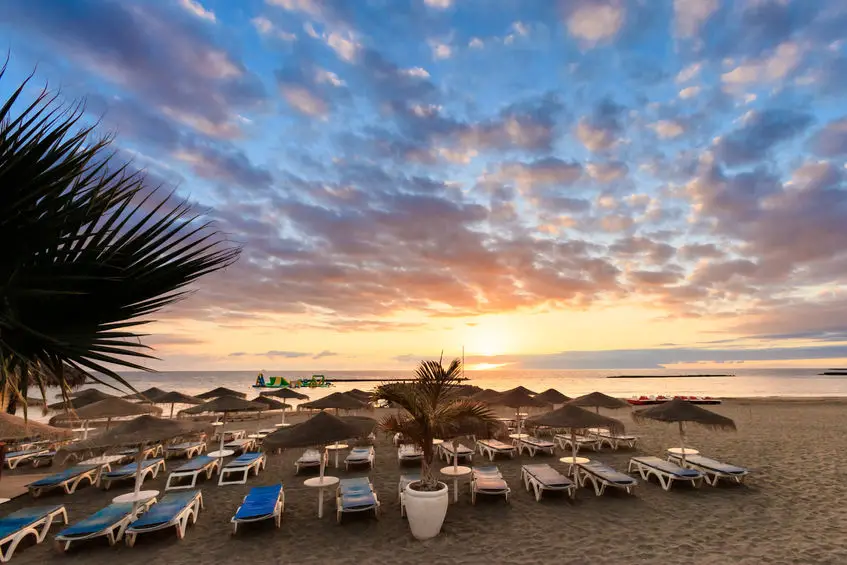 Costa Adeje, one of the newer and upmarket resorts, is around 5km or a 10-minute drive from Los Cristianos.
---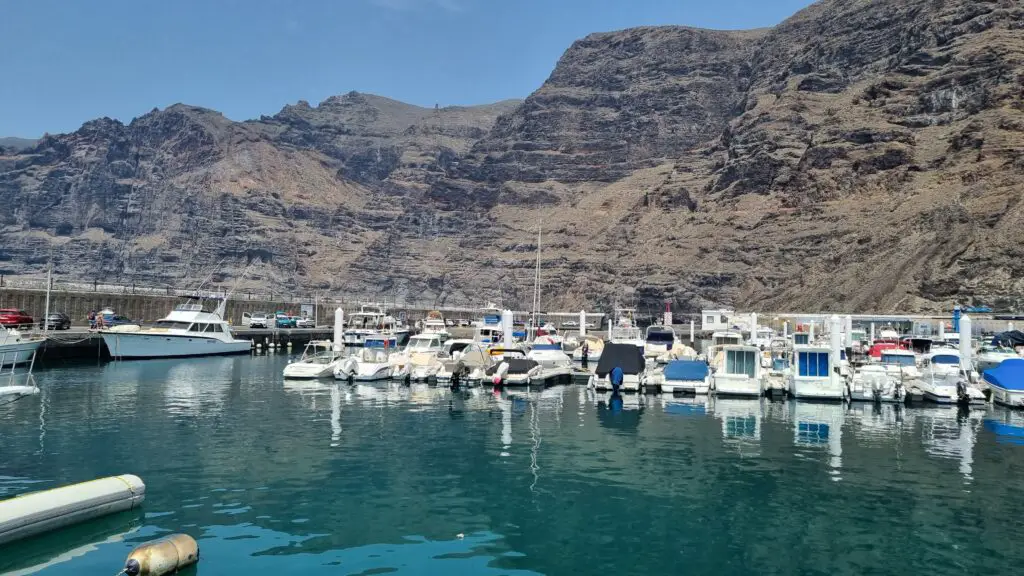 Los Gigantes is a little further along the coast, around 30 km or just over half an hour's drive away. This resort is a little quieter than Los Cristianos but famous for its stunning scenery.
---