Locations
Locations in Tenerife
Costa Adeje
Costa Adeje, in the municipality of Adeje, is one of the newer and upmarket resorts in Tenerife. It is situated in the south-west of the island next to the resort of Playa de las Americas and just a 10-minute drive from Los Cristianos. It has a quieter and more relaxed atmosphere than Playa de las Americas, however, the two resorts are close together and it is easy to get from one to the other by car or bus and even on foot.
There are a lot of well-equipped, modern, high-end hotels and boutique hotels, as well as many other types of accommodation to suit everyone. Costa Adeje has some excellent restaurants and bars, great shopping and entertainment.
The resort is popular with visitors who want a slightly more exclusive and quieter place to stay. Families will enjoy the excellent beaches and nearby theme and water parks. From Costa Adeje it is easy to reach all of the attractions on the island, which makes it a great base for a holiday.
How to get to Costa Adeje from Tenerife South Airport
By car
On our car hire page, we have collated many useful tips and things to consider when hiring a car from Tenerife South Airport. Costa Adeje is approximately a 15-20 minute drive (18 km) from the airport. See here for driving directions.
By bus
If you would prefer to use public transport, the resort it is also easily accessible by bus. Buses run approximately every half hour from the airport to Costa Adeje bus station and take approximately 30 minutes.  Take bus number 111 from Tenerife South Airport to the bus station in Costa Adeje.
The price for a single journey by bus from Tenerife South Airport to Costa Adeje is € 3.70. For more detailed information, please see our page Airport Bus Tenerife South.
By taxi or pre-booked private transfer
You will find the Tenerife South Airport taxi rank outside the arrivals hall on the right hand side.  There is usually a notice displaying current fees to the major resort destinations.  All official taxis can be identified by the "SP" plate on the vehicle. The taxi fare from Tenerife South Airport to Costa Adeje is approximately € 45.00. Check with the driver before leaving the airport.
If you prefer the luxury of being collected from the airport arrivals hall by your own private transfer driver, then why not pre-book a private transfer service. The price for a private transfer will generally be similar to a standard airport taxi but allows you to avoid queuing at the taxi rank. For more information, please see our Airport Transfers page. A private transfer from Tenerife South Airport to Costa Adeje on average costs around € 45.00.
---
Beaches in Costa Adeje
The coastline in Costa Adeje has some of the best beaches and bays on the island, earning some of them Blue Flag status.
Playa de Fañabe
Playa de Fañabe is the perfect beach for families and one of the best in Tenerife. A long stretch of golden sand and calm sea make it child friendly, but it is a great beach for everyone,  not just families. The sea is calmer due to the man-made breakwater. 
This is a great beach for anyone who enjoys water sports or just relaxing on one of the sun loungers.  There are life guards on duty on the beach and children's play areas to ensure the children are looked after. Close by the beach you will find a great selection of restaurants, bars and cafes to choose from. There is also a promenade, making it a great place to take a stroll and do some shopping at one of the boutiques along the way.
Playa del Duque
An award winning 2022 Blue Flag status beach in Costa Adeje. It is situated at the more upmarket end of Costa Adeje, which is also reflected in the rental fee for sun loungers, etc. These are more expensive here compared to some of the other nearby beaches. However, the beach is popular with everyone and well equipped.  Its soft golden sand, which is imported from the Sahara, makes it a perfect place for relaxing and unwinding.
If you need a break from relaxing, there is also a good choice of water sports activities on offer. In addition, there are some fantastic bars and classy restaurants located near the beach, but they do charge more than other beaches due to its prestigious position.
Playa la Pinta
Situated next to the marina at Puerto Colón. This is a small, attractive beach with golden sand. It is in a protected position due to its location, and therefore a great place to swim and enjoy water activities.   On the marina side of the bay there is a protected play area in the sea, making it a great destination for families.
With the marina nearby you also have the option of taking one of the many boat trips on offer. The promenade continues along the beach front, making it a great place to stroll and taking in the view or sitting down for a relaxing drink.  There are lots of cafes and bars to choose from.
Playa Torviscas
This 2022 Blue Flag beach is really just an extension of Playa Fañabe, although a little quieter. It is a long stretch of golden sand and a popular relaxing destination for both couples and families. There is a wide variety of water sports activities and there are sun loungers for hire.  Toilets and changing facilities can also be found on the beach.
Take a walk along the promenade and you will also find a great selection of bars, restaurants and small shops next to the beach.  Continue down the promenade and you will come across the neighbouring beach of Playa Fañabe.  You can also easily walk to Playa la Pinta and Puerto Colón.
---
What to do in Costa Adeje
If you want to do more than just relax on the beach, there are several theme parks in the area. You can also take a boat trip for whale and dolphin watching.  Tenerife is one of top three whale and dolphin watching resorts in the world.
Why not charter a boat, or take a day's guided excursion and relax, take in the view, go for a swim and enjoy lunch and drinks aboard.  If you prefer something a little longer, why not book a sailing weekend?
Scuba Diving & Snorkeling Trips
If you haven't tried diving before, your trip to Tenerife and a "try dive" could be the start of a new found hobby and passion. There are courses and trips to cater for everyone, from the absolute beginner, to the more experienced sea divers. You can book a "try dive" with an experienced personal instructor, opening up a new underwater world.  See the Canarian sea turtles, fish and much more.
For those who are less confident, there is also the option of snorkeling with turtles accompanied by an instructor. For those who want to have more experience diving, why not complete PADI diving course whilst you are in Tenerife?
PADI Courses:
There are a selection of different companies who run the PADI course and Tenerife is a great location for it. After you have completed your course, you will receive a certificate that enables you to dive in any diving center. Choose which course best suits your requirements, there are many different courses available. There are also diving packages available for certified divers.
Shopping in Costa Adeje
If you love to shop, you will be spoilt for choice. You will find designer shops, boutiques, duty free shops, locally made Canarian items, gifts and much more.  Costa Adeje is a shoppers' paradise. From high-end boutiques selling luxury brands to electronic items, there is something for everyone.
Plaza del Duque Centro Comercial
If you enjoy a little retail therapy, then a trip to the luxurious, upmarket Comercial Centro Plaza del Duque is not to be missed. It is a small shopping center selling a wide range of mostly designer goods. Not somewhere to go if you are hoping to find a bargain, but a great high-end shopping centre to wander around and stop off for a good coffee.  Or maybe treat yourself to one of this season's designer collections.
Fañabe Street Market
Alternatively, if you want to grab a bargain, why not go to the street market in Fañabe which is held every Thursday and Saturday. The market is open between 9.00 am and 2.00 pm. It is located opposite the El Duque commercial center in the Torviscas area. It is a large market popular with locals and tourists alike, where you can find all you need – from food produce to souvenirs and presents to take home.
Eating out in Costa Adeje
In the evening, there is a great selection of bars, restaurants, music venues and lounge bars.  There are lots of restaurants offering a wide variety of food choices from local Canarian food to international cuisine.
Restaurants, bars and clubs in Costa Adeje tend to be more upmarket than the neighbouring resorts but you can still find places to eat and drink to suit all budgets.
If you want a more refined place to eat then El Duque is the place to find some  stylish places to eat and drink in one of the many exclusive cocktail lounges.
Tourist attractions in Costa Adeje
Siam Park
Siam Park is one of the best water parks in Europe and a must for any family day out (even for the big children)!  In fact, it has just won the Tripadvisor Traveller's Choice Award 2023 as the "best waterpark in the world", for the ninth year running. It is situated in Costa Adeje so, if you are staying in the resort, it is right on your doorstep. Whether you are a swimmer or non-swimmer you will enjoy your day at the park.
You can relax in one of the bars or restaurants or wander around following the lazy river which runs under the wooden walkways through the park watching the sea lions and koi carp.  Or why not take a dip in the wave pool? For the adrenaline junkies, there are also some amazing rides.
Why not try the Singha toboggan ride which is water propelled, travelling in rafts which hold up to three people?  You can reach speeds of up to 18m per second! Check out the Siam Park website for more details.
Loro Park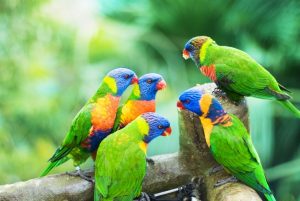 Alternatively, why not have a day out at the famous Loro Park?
This is situated in the north of the island in Puerto de la Cruz and offers a great day out for all the family.
At Loro Park, you will see dolphins and Orca whales.  This park boasts the largest dolphin pool in Europe.  There are lots more animals and shows to see, e.g. tigers, chimps, sea lions, pelicans and parrots, to mention but a few.
If you don't want to drive yourself, there are many companies offering trips and excursions to Loro Park.  Check out the resort where you are staying to see what is on offer.  Alternatively, check out the Loro Park website to book your own tickets.