Airport Info
Disability Assistance
Disabled Parking in Tenerife
Like in most other countries, you will find designated parking spaces for people with disabilities in Spain and Tenerife. However, please be aware that the rules might differ from what you are used to at home.
Can I use my disabled parking permit (Blue Badge) in Tenerife?
That depends on where your parking permit was issued.
EU parking permit

Badges that were issued in another EU country are recognised in Tenerife and can be used.

Third country parking permit

Different rules apply to permits issued outside the EU.





A

reciprocal recognition

of parking badges is in place for the following countries:



·         Australia
·         Canada
·         Japan
·         Korea
·         New Zealand
·         United States

Anyone using a disabled permit from a third country should display a Spanish notice alongside their official permit (see below).

UK parking permit (Blue Badge)

While UK parking permits were recognised prior to Brexit, the rules around this have not been clarified as the issue has not yet been fully addressed. The Spanish Oficina de Atención a la Discapacidad (Disability Care Office) advises that disabled parking badges issued in the UK are currently not valid for use in Spain.The UK government advises that recognition of a UK disabled parking permit is decided by local administrations. It might therefore a good idea to double-check at the town hall or police station in the area you are staying. In addition, a Spanish notice (see below) should be displayed together with your UK disabled permit.
Spanish notice (to be used in conjunction with disabled badge)
If you are using a disabled parking permit that was issued outside the EU, you should display the following notice together with your official disabled badge. You can download this notice here.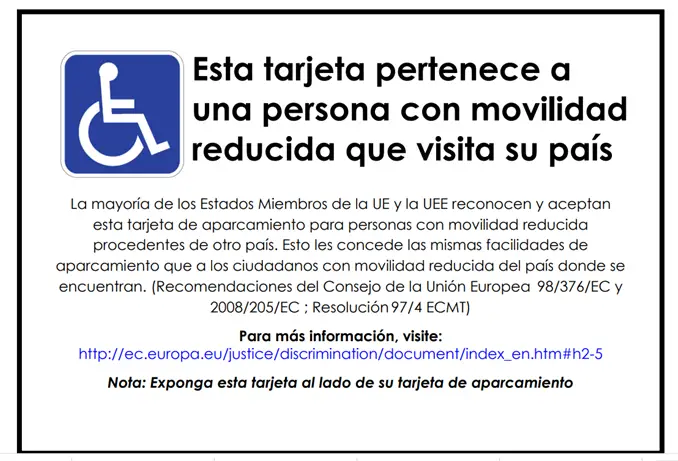 The notice states:

"This card belongs to a person with reduced mobility visiting your country. Most EU and EEU Member States recognise and accept this parking card for persons with reduced mobility coming from another country. This grants them the same parking facilities as citizens with reduced mobility from the country where they are located."


Where can I park with my disabled parking permit (Blue Badge) in Tenerife?
On roads and in car parks, look out for spaces marked with the wheelchair symbol. The time limits for parking in these spaces may vary – do check locally.
The rules regarding pay and display parking spaces may vary, so it is important to check the local signs.
You cannot normally leave you car on roads where parking is prohibited, unless exceptions for disabled badge holders are clearly displayed.
Driving or parking in pedestrian zones is not allowed, unless there is a notice informing you otherwise.
---
Further information
You can get further information on the following websites:
Gobierno de España / Spanish Government Website
Related pages
Disability Assistance at Tenerife South Airport
Wheelchair / Mobility Aid in Tenerife
Car Hire at Tenerife South Airport
Parking at Tenerife South Airport
---