Locations
Locations in Tenerife
Los Gigantes
The pretty village of Los Gigantes is situated on the west coast of Tenerife and is approximately a 40 minute drive from Tenerife South Airport. It is a relatively small resort known for its stunning mountain range and sheltered location.  The rock formation "Acantilados de los Gigantes" form the backdrop to this picture perfect resort, which give the village its name "The Giants". The cliffs are one of Tenerife's main tourist attractions.
Los Gigantes is a popular resort for tourists who like a quieter place to stay, away from the hustle and bustle of the busier resorts.  Los Gigantes is also in easy reach of Playa de Las Americas and Los Cristianos, approximately 30 kilometers away.

There is a small marina and beach in the village, with a few bars and restaurants to enjoy a relaxed drink or meal whilst admiring the view.  On a clear day you can see the nearby island of La Gomera.  The view of Los Gigantes is one of the must sees in Tenerife.
There are boat excursions which leave from the marina daily.  Why not take one of the many boat trips from the marina, dolphin and whale watching. There are also a good selection of water sports equipment to hire.
The roads in Los Gigantes are very narrow and in the central plaza of the village you will find a pedestrian area to walk around.  Although the village is small you can find a good selection of bars and restaurants.

---
Beaches at Los Gigantes
Los Guios
The beach at Los Gigantes is called "Los Guios". It is a small black sand beach with sun beds and parasols for hire.  Situated next to the marina, it is in a fairly protected position and a relaxing place to spend the day.  Please note that Los Guios beach is not wheelchair accessible.
Playa de la Arena
Los Gigantes is situated near some pretty villages and the uncrowded Blue Flag beach of Playa de la Arena "Beach of Sand". Playa de la Arena is just south of Los Gigantes and Puerto Santiago and is one of the smaller resorts on the island, offering a quieter and more relaxed destination.
You can easily get to Playa de la Arena from Los Gigantes via a 10-minute bus ride.  Take bus number 143 from Los Gigantes to Playa de la Arena.  Alternatively, if you wish to drive, there is plenty of parking available.  If you enjoy a walk, it will take you about 30 to 40 minutes to walk from Los Gigantes.  There are some good walks along the coastline where you can take in the volcanic landscape. The town at Playa de la Arena is quite small but has everything you need.
The beach at Playa de la Arena is made from the natural black volcanic sand and is one of the cleanest on the island. There are some strong undercurrents, so be aware with young children and inexperienced swimmers.  There  is a flag system on the beach warning of the sea conditions.  The beach is also manned by lifeguards and there are sun loungers and parasols to hire. Along the promenade nearby, there are a variety of bars and restaurants to enjoy a drink or lunch.
---
In the pictures below you can see from left to right: Playa de los Gigantes, Puerto de Los Gigantes (Los Guios), Playa de La Arena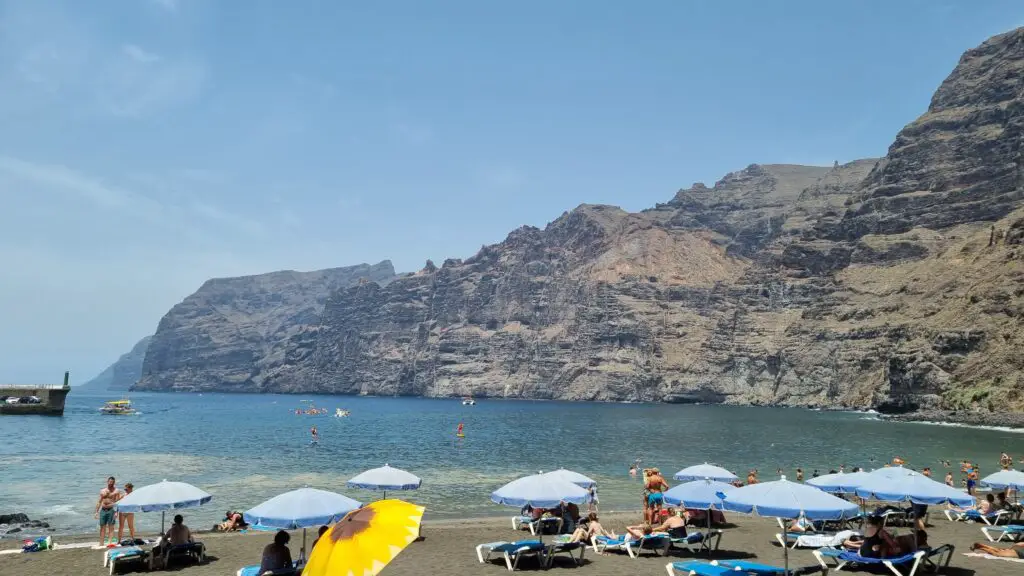 ---
What to Do in Los Gigantes
Dolphin and whale watching
One of the best places in Tenerife for dolphin and whale watching in their natural environment is in the Atlantic waters around Los Gigantes. The clear waters in the area make it a top destination for marine biologists.  It  is the best place in Europe to observe whales and dolphins all year around, the best time of the year being March to May.
There are lots of different species of both whales and dolphins to spot on one of the trips around the waters of Los Gigantes, you may even see a sperm whale!  Bottlenose dolphins can also be found and are a delight to spot from one of the many boat trips. Check out the different boat trips available for a great day out for everyone.
Scuba diving
If you enjoy diving or want to learn to dive, then the clear waters around Los Gigantes is a great place to start. There is a diving school based in Los Gigantes which runs a full range of diving courses at different dive sites.
Deep sea fishing trips
For those who fancy a day or half day excursion deep sea fishing, Los Gigantes has lots to offer.  You can catch, tuna, sea bream and marlin.
There are different options available to choose and equipment and bait are supplied if you have none.  You can even charter your own private boat.  Trips are available to cater for everybody's needs from the experienced to the novice.
Shopping in Los Gigantes
Although the resort is quite small, you will find a selection of shops in the commercial centre in Los Gigantes. If you fancy some retail therapy, you can pick up the usual tourist gifts and items.

Everything that you need can be found in Los Gigantes.  There are a few small supermarkets and fruit and vegetable shops, where you can stock up on your essentials.  Travel a little further to Playa de la Arena and you will find a larger supermarket.

The central plaza in the resort around the church is a pedestrian zone, allowing you to wander around to take in the sights and stop off for a drink or something to eat.
Markets
There is no market in Los Gigantes, but there is a small one in nearby Alcala, which can easily be reached by bus. This takes place every Monday from 9.00 a.m. to 2.00 p.m in Plaza del Llano. However, while this used to be a flea market with a range of different stalls, including clothes and artwork, nowadays you will find only a handful of stalls selling fruit and vegetables. Nevertheless, it is a great place to go if you are after some fresh, extremely good value and, at times, exotic produce. The nearest bigger market can be found in Fañabé (every Thursday and Saturday morning).
---
Pictures below from left to right: Alcala fruit and vegetable market, fruits purchased at the market, Alcala coastline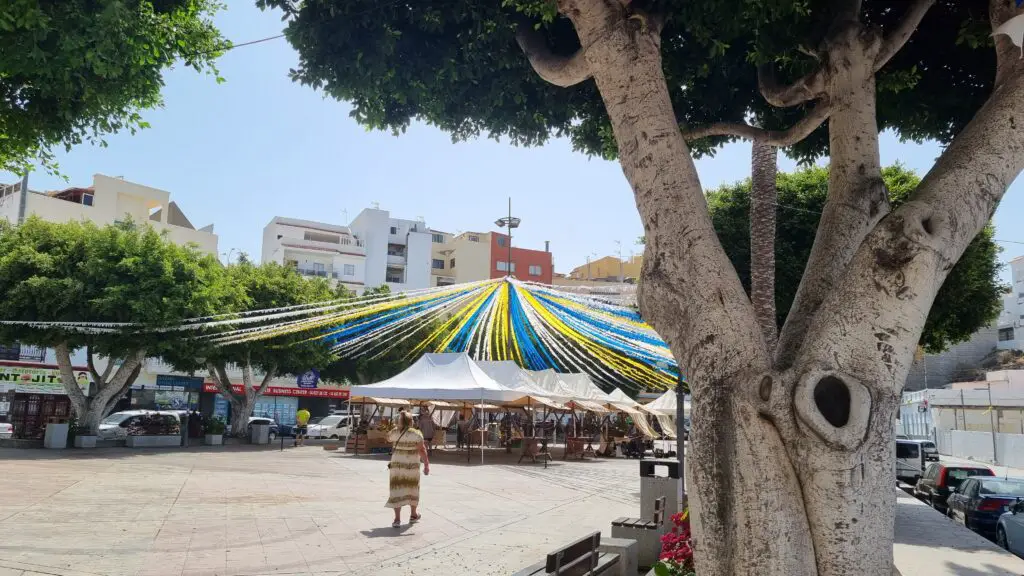 ---
Eating and drinking in Los Gigantes
Restaurants and bars can be found in the marina area and resort centre.  Having a drink as the sun sets down at the harbour is a must to take in the view. There is a good selection of restaurants, seafood restaurants, local Canarian food and the more familiar tourist food.
Nightlife
Los Gigantes is a quieter resort so there is not a big night life scene.  There are some small clubs but if you are looking for more lively evening entertainment you will need to go to Los Cristianos or Playa de las Americas.